After the successful installation of SQL Server 2016 Developer Edition (which is now free), you are more than likely going to want to install SSMS to manage the recently installed instance. You can get the latest build of SSMS here.
So looking forward to seeing what was new and to get some "hands on" with SQL 2016 I attempted to install SSMS, only to be presented with absolutely nothing, not even an application crash message dialog. For this, I blame Microsoft since I had to go digging to find the appcrash log as nothing was presented to me. However, the resolution to my install issue actually was because of VirtualBox's 3D acceleration feature.
To give you some background, this is what I'm running:
VirtualBox version 4.3.30 r101610
Guest OS: Windows 10 Pro version 10.0.10586
To figure out why this application would not run, I attempted to search for files modified on my system in the past 24 hours, looking for files on or near the time of the attempted install of SSMS. This presented a hodge-podge of crap, but in the mix I noticed a folder titled "AppCrash_SSMS-Setup-ENU (…" with a long GUID appended to the folder name. Going into this folder yielded a file named "Report.wer"

Opening this file in notepad, revealed why the SSMS install had crashed:
Version=1
EventType=APPCRASH
EventTime=131107695345800522
ReportType=2
Consent=1
UploadTime=131107695347350157
ReportIdentifier=560c54f3-35b4-11e6-bdd0-080027902219
IntegratorReportIdentifier=e3b20ae2-003b-43a4-9b31-1cbb53c077e9
WOW64=1
NsAppName=SSMS-Setup-ENU (1).exe
Response.BucketId=4c8503802e2985474497b5c57950dc5d
Response.BucketTable=1
Response.LegacyBucketId=108232616784
Response.type=4
Sig[0].Name=Application Name
Sig[0].Value=SSMS-Setup-ENU (1).exe
Sig[1].Name=Application Version
Sig[1].Value=13.0.15000.23
Sig[2].Name=Application Timestamp
Sig[2].Value=52974fc4
Sig[3].Name=Fault Module Name
Sig[3].Value=VBoxD3D9wddm-x86.dll
Sig[4].Name=Fault Module Version
Sig[4].Value=4.3.30.0
Sig[5].Name=Fault Module Timestamp
Sig[5].Value=559fa90e
Sig[6].Name=Exception Code
Sig[6].Value=c0000005
Sig[7].Name=Exception Offset
Sig[7].Value=00003bb1
DynamicSig[1].Name=OS Version
DynamicSig[1].Value=10.0.10586.2.0.0.256.48
DynamicSig[2].Name=Locale ID
DynamicSig[2].Value=1033
…
Searching Google for "VBoxD3D9wddm-x86" led me to the resolution, 3D support within VirtualBox. The actual ticket which has been closed and fixed can be found here.
To resolve my issue, I shutdown my virtual machine and opened the display settings, turned off the "Enable 3D Acceleration" extended feature, powered on the VM and I was able to start the install process for SSMS 2016 without a hitch.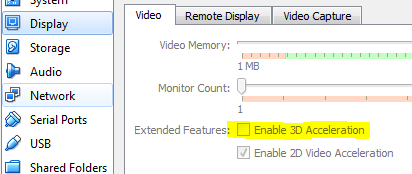 Another lesson learned with this experience…keep your software up-to-date! From what I've researched, version 5 of VirtualBox along with the updated Guest Additions should not experience this issue.
Now I'm off to update VirtualBox!
SQL Server Management Studio (SSMS) 2016 failed to install on Windows 10