Version

0.21.1909.0

Download

35

File Size

6.08 MB

Create Date

October 5, 2019

Verify CAPTCHA to Download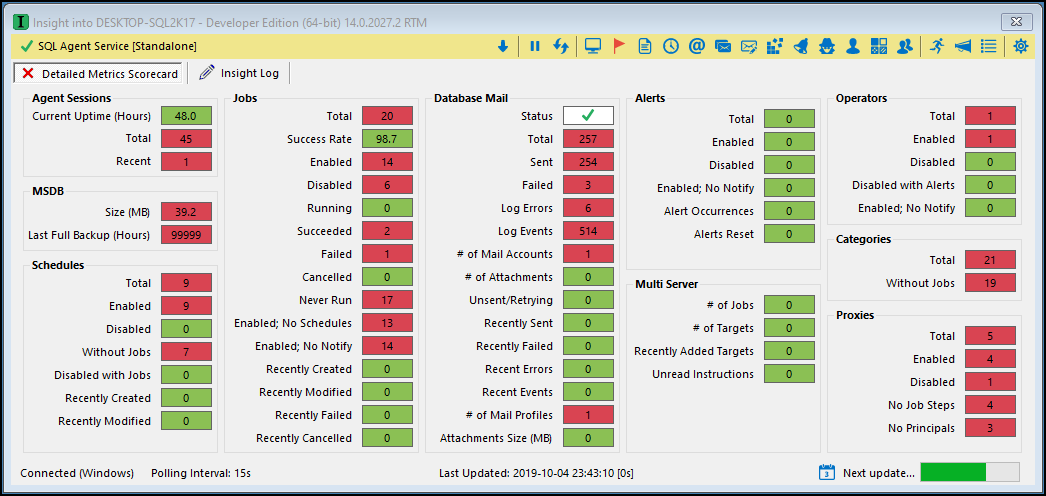 New Features
Successful testing has been completed with SQL Server 2019 RC1.
SQL Server 2019 instances now appear in the Available SQL Servers list.
The project now targets .NET 4.6 Framework.
Agent Job Monitor

The ability to pause / suspend the execution of a job for a set amount of time.
The ability to purge job history; for an individual job, a set of filtered jobs, or for all jobs in a monitored instance.

Job History

The ability to purge job history for the job being viewed.

Proxies Summary

A view showing all SQL agent proxies for the monitored instance, any job steps and principals that reference the proxy. Additionally, when a job step is selected, the respective command from the job step is shown.

5 new proxy metrics are being monitored within each Insight:

Total proxies, enabled proxies, disabled proxies, proxies without any job steps, and proxies without any principals assigned.

The ability to start an Insight directly in maintenance mode. This was implemented to allow initial metric threshold configuration prior to the Insight firing any e-mail alerts (if SMTP had been configured).
SMO (SQL Server Management Objects) v150.181180.0 assemblies included in the distribution. There is no requirement to download any SQL Server Feature Pack.
Improvements
Only one job history window can be opened per job.
Resolved Bugs
An output file is no longer saved (to disk) when the option to save a script has been cancelled.
Agent Job Monitor

Scripting a job with 0 (zero) steps now works correctly.
Context menu options modified to match selection.
User is alerted sooner if a job is renamed to one that already exists.

Connection

A previous unhandled exception during an attempt to connect to an instance is now handled.