Download
Hover over "SQL Agent Insight" (right up at the top ↑ of this page).
Click on "Download".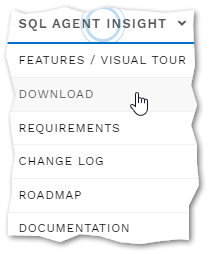 On the download page, fill in the form providing:

Your name,
A valid e-mail address, (this is important since the download link will be sent to this address)
Validate that you are not a robot! (Check the box provided, answer any questions from the re-CAPTCHA)
Click on "Send me a Download Link"

If all goes well, you will get confirmation on the download page that the form was correctly filled in, directly below the form. If there are any errors, correct them and try again.
Please wait patiently for the e-mail. This can be delivered within 5 minutes, but depending on e-mail systems, may take up to 2 hours. Don't forget to check your spam / quarantine folders.
When you receive the e-mail, there will be a link to directly download SQL Agent Insight from this website.
If you have been trained to not click on links in e-mail (good for you), you can always hover over the links in most e-mail software to verify their destination.
NOTE: I do not host downloads on other affiliate sites, only trust downloads directly from https://brentec.ca.
Click the download link or right-click the URL and copy the hyperlink and paste the URL into a web browser session.
When prompted, save the download to a folder on your computer. The file type will be a zip file, and will be named after the version number downloaded.

A zip file is an archive containing one or more compressed files.

Installation
Using "File Explorer" navigate to where you saved the SQL Agent Insight downloaded zip file.
NOTE: Windows may flag the downloaded file and block it from running on your computer. To rectify this issue (before extracting/unzipping), in File Explorer, right-click on the zip file, and on the General tab, click the Unblock checkbox, click Apply / OK to proceed.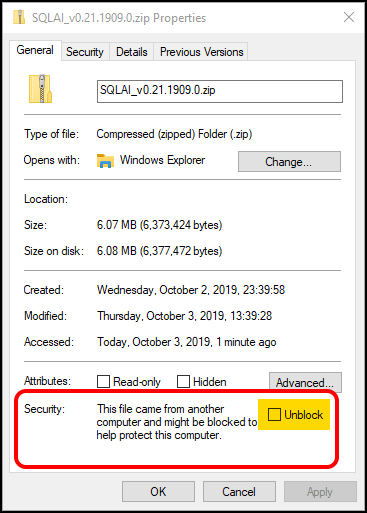 NOTE: Failing to unblock the zip file will block ALL files in the zip file once extracted (see process below).

You would then require to unblock each file individually to prevent execution errors.
However, if you wanted to unblock all files after extraction (unzipping) you can run this PowerShell:
dir [path and filename of the extracted zip file] -Recurse | Unblock-File
For example:
dir C:\Users\Me\Downloads\SQLAI_v0.22.2010.0.zip -Recurse | Unblock-File
Right-click on the downloaded SQL Agent Insight zip file and select "Extract All…".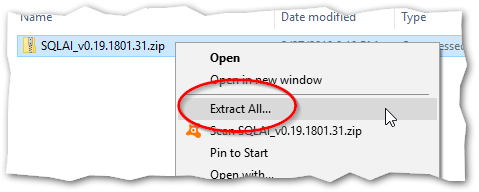 A new dialog will appear asking for the destination to extract the files. You can "Browse…" to select a new location if desired, but you can leave the defaults and then click the "Extract" button near the bottom. Wait for this to complete, and should take no longer than 10 seconds.
If you didn't unblock the downloaded file post download and have already extracted the contents, see above on how to use PowerShell to recursively unblock the files so they can be used.
Guess what? You just successfully installed SQL Agent Insight! To uninstall SQL Agent Insight (why would you want to do that?!) just delete the extracted folder. It is that simple.
NOTE: Running SQL Agent Insight does not install anything on your system or on the monitored SQL instance.
Running for the first time
After extraction, using File Explorer, navigate to the folder that you selected earlier in the extraction dialog (if you happened to close the window). However, if you selected the option "Show extracted files when complete" during the extraction process then a new File Explorer window will open automatically showing the extracted files.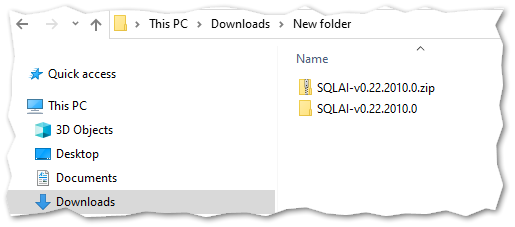 In the SQL Agent Insight folder post extraction you should see files similar to the following:

Double-click on "SQLAgentInsight.exe" to run the software.
When you run SQL Agent Insight for the first time, some anti-virus (AV) software may flag the file as infected. Rest assured the file is not a virus, but since there is use of some code obfuscation utilities and methods to prevent decompilation, the scanners might be picking up on that. You may have to create a rule to allow SQL Agent Insight to run successfully with your anti-virus software.

Additionally, Avast AV may throw up an "unhandled exception" dialog. This is normal and should only happen once on your system. If you let Avast AV finish its scan, which can take about 15 seconds, Avast will close and restart SQL Agent Insight automatically, ready for normal use.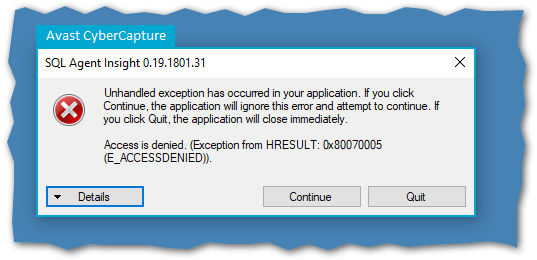 Once SQL Agent Insight has started successfully, you should see the "About" dialog.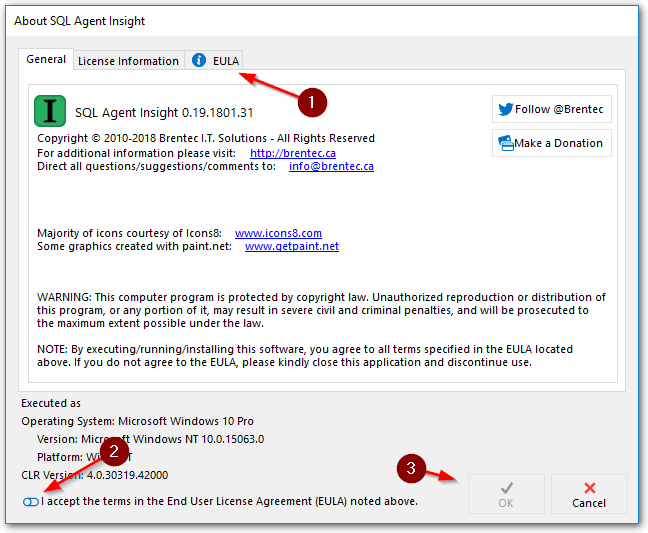 Click the toggle to accept the end user license agreement (EULA), which will then activate the OK button.
You will then be presented with the main UI for SQL Agent Insight. You will notice that SQL Agent Insight attempts to enumerate your network to find all supported and visible versions of SQL Server on the local network segment.

NOTE: SQL Agent Insight may not find all of your instances of SQL. This could be because of numerous factors including:

Windows firewall blocking on the SQL Server you desire to monitor.
SQL browser service is not running on the instance you wish to monitor.
Windows firewall blocking on the client, i.e. where you are running SQL Agent Insight.
Physical network firewall blocking.
The client and SQL Server are on different networks / vLANs.
The SQL management objects installed on the client don't recognize older versions of SQL (e.g. SQL 2016 SMO's won't "see" SQL 2005/2008 servers).
The client does not meet the prerequisites required for SQL Agent Insight.
The client is running .NET 4.x, which has been known to break runtime versions of SqlDataSourceEnumerator.Instance.GetDataSources() which is used to enumerate SQL servers on the local network.

Should enumeration of your network resources be successful, all instances will appear in the "Available SQL Servers" windows in the left of the main program window.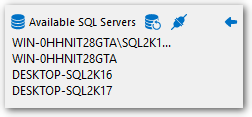 Hovering your mouse cursor over any of the instances will show the SQL Server version installed for that instance.