In version 0.22, a typical active Insight is shown below.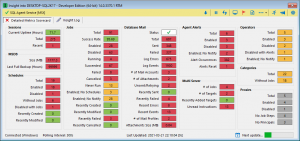 In this example, we can see that the SQL Agent Service is running (as indicated by the green checkmark at the left in the toolbar). Should the SQL Agent Service be stopped, this checkmark will be replaced by a red X.
Additionally, beside the status of the SQL Agent Service, in square brackets, is an indication of it's multi-server status (if applicable).
A value of [MSX] indicates the SQL Agent is the Master server in the Multi Server Administration, whereas a value of [TSX: <master server instance>] will indicate that the SQL Agent is a Target server in the Multi Server Administration, with the name of it's master indicated. A SQL Agent Service not participating in Multi Server Administration with neither show MSX or TSX.
Also in the toolbar, on the right,  there are several additional buttons.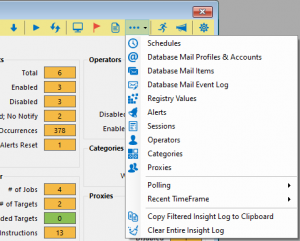 From left to right they are:
Toggle minimal view
Pause / Resume polling
Refresh metrics via a manual poll
Job Monitor
Job Conflict Outlook
Log Viewer
More Options (which expands to the following)

Schedules
Database Mail Profiles & Accounts
Database Mail Items
Database Mail Event Log
Registry Values
Alerts
Sessions
Operators
Categories
Proxies
Polling
Recent Timeframe
Copy filtered Insight log to clipboard
Clear entire Insight log

List running jobs indicator
Email notifications indicator
Insight Configuration
Directly below the toolbar and under the SQL Agent Service status, there are two (2) tabs. The default, which is the Detailed Metrics Scorecard, and the second, the Insight Log.
The primary focus of any Insight are the metrics. In version 0.22 of SQL Agent Insight there are 63 metric values that determine the overall state of the Insight.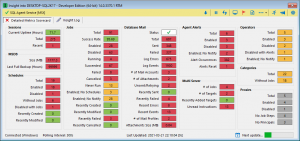 And lastly, below the metrics is the status bar with several key features (from left to right) are:
The state of the connection to the SQL Server instance with an indication of the authentication method, either Windows or SQL,
The Polling interval (in seconds),
The last update date and time with the refresh time in square brackets,
The current recent timeframe selection (in days),
And, when the next automatic update / poll will happen to refresh the metrics, indicated by a progress bar.