SQL Agent Insight:Documentation:Insight Log
---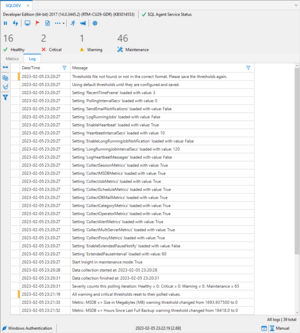 Everything that happens in an Insight is captured within the log tab. It can get very verbose, however, if there is a problem with an Insight, the log is the first place to investigate.
The Insight log will capture events with a date and time stamp and include the following:
Configuration settings loaded and applied.
Configuration settings changes including maintenance, long running jobs and notifications.
Critical threshold breaches showing their polled value versus the configured threshold.
Threshold value changes done via the Insight Configuration.
Any communication errors that might happen with the underlying SQL instance.
Heartbeat messages.
Search
The Insight log can be very verbose and have many entries. The search functionality is built into the filtering capability of each column within the log. Simply click on the filter icon within the DateTime or Message column header to find the desired data quickly and easily.
Options
There are four (4) options accessible from the Log action toolbar located to the left of the log table.
Size all columns to fit

Adjusts the width of all columns in the log to the largest cell in that column.
Copy current page of Insight Log to clipboard

Copies the current viewable page of the log to the Windows® clipboard which can then be manipulated or saved in another program.
Clear entire Insight Log

This option is irreversible and will delete all records in the log. A new record stating that the log window was cleared manually is logged for future reference.
Clear any/all filters

When a filter on a column is active, the filter icon in the column header will be solid (filled). Clicking the clear filters button will remove any and all filters from all columns showing all available data in the log.
---
---
Microsoft®, Windows® and SQL Server® are registered trademarks of Microsoft Corporation in the United States and/or other countries.
Some icons courtesy of Icons8